Home > Special Offers
Special Offers
Check out our special promotions
We are currently without promotions.
Soon news for you.
COMMENTS:
• All rates include breakfast
• We accept all credit cards
Event Space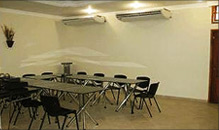 Space with a modern and air-conditioned structure, ideal for lectures, meetings and presentations. Reserve our space and have a meeting with success.
Leisure Areas
Enjoy our leisure areas with leisure areas with swimming pool. Providing our guests with a peaceful and unforgettable stay.