Home > Luxury Double Suite
Luxury Double Suite
Excellence in wellness



All the suites are differentiated in decoration and layout, always maintaining the high standard of comfort and refinement of the hotel. They have more than 30m² decorated in a charming and cozy way.
Event Space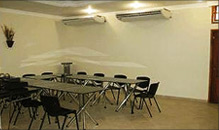 Space with a modern and air-conditioned structure, ideal for lectures, meetings and presentations. Reserve our space and have a meeting with success.
Leisure Areas
Enjoy our leisure areas with leisure areas with swimming pool. Providing our guests with a peaceful and unforgettable stay.