Home > Luxury Suite
Luxury Suite
Luxury and comfort






A conceptual suite that best translates the comfort and refinement of the hotel. Favorable to romantic houses, this suite has more than 50m² and includes, in its layout, living, rest and reading environment.
Event Space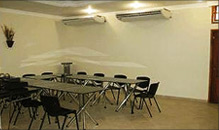 Space with a modern and air-conditioned structure, ideal for lectures, meetings and presentations. Reserve our space and have a meeting with success.
Leisure Areas
Enjoy our leisure areas with leisure areas with swimming pool. Providing our guests with a peaceful and unforgettable stay.